Exclusive : XCM White 360 HDMI 1080p Cable
Cable allows connection of White Xbox 360 using HDMI...well actually no, it is a retractable HDMI cable.
By CESPage.com Xbox, Published 5th August 2007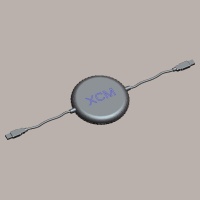 Major Xbox and gaming websites and publications get it wrong!
CESPage.com Xbox on 27th June 2007 posted about the new cable from XCM, a white retractable HDMI cable with the 360 branding refering to the retraction round section or co-brand for the new Xbox 360 Elite which can use this kind of cable. However everywhere except here and a couple of places mentioned this being a new cable for the white Xbox 360 (Core or Premium models) even though this is never stated it is for those consoles. The Xbox 360 Core and Premium models do no have a HDMI port so the assumption was made this cable would allow this output however this is not possible. HDMI is a digital standard although conversion is possible one must have a good digital source and existing HDMI port on a piece of hardware delivers this, such as the Xbox 360 Elite model and HD DVD, Blu Ray players and similar devices.
HDMI Cable
This item is just a retractable HDMI cable, this part is great as it is a first and the product should get all due credit for this innovation, however this was overlooked the centre section was instead attributed to being a Analogue to Digital converter with HDMI on one end, but what of the other end of this device - yes another HDMI connection can be seen, not the Xbox 360 connecter which is much larger and familiar to all who own the console. The item is white - this is the colour of the item not what it was for - it could be black or blue, and 360 this is the name of the product again referring to the retraction mechanism or some clever branding to go with the Xbox 360 Elite. 1080p is possible on all Xbox 360 models however the Core and Premium can do this over VGA and Component only and these are both analogue.
Exclusive
When the information about the cable being a converter / adapter cable etc was first posted CESPage.com Xbox did its best to correct this information, posting on Xbox.com and other sites where possible - since major websites posted this information as fact (initially rumour) a correction seemed appropriate. Once the cable comes out it will be clear who was right, but for now the real purpose and description of this item can be found here!
Source : Teamxtender